*Price is shown in full. Please check on Lazada or Facebook for promotions
This Face Balm is crafted especially for intensive night care, keeping the facial skin smooth and hydrated all night while effectively reducing wrinkles. The skin is deeply nourished with strengthened skin barriers and enhanced repairing abilities.
RIVIERA SUISSE FACE BALM NIGHT 50 ML
Best Facial Night Cream, EVEANDBOY Best Selling Awards 2019
Riviera Suisse | 100% Made in Switzerland
Regenerating + Refining + Balancing
Improved overall skin structure, with stronger skin barriers to combat environmental effects

Regenerates damaged skin tissues with enhanced repairing ability

Effectively reduce wrinkles and refines skin

Keeps skin deeply hydrated with hyaluronic acid, panthenol, and Moringa Seeds oil

Superbly boost all essential collagen production with Syn®-TC, providing smooth skin

Experimentally proven to boost collagen and fill up wrinkles within 28 days

Overall balanced skin appearance

Dermatologically tested, made for all skin types

50 ml.
Additional information
| | |
| --- | --- |
| Benefits | Acne Care, Anti-Aging, Brightening, Lifting, Moisturizing, Pore Control, Smoothing |
| Form | Balm |
| Skin Type | Acne-Prone skin, All Skin Types, Oily skin, Skin with Signs of Aging |
| Toxic Free | AHA-free, Alcohol-free, BHA-free, BHT-free, Colorant-free, Cruelty-free, Formaldehyde-free, Hydroquinone-free, Mineral oil-free, Paraben-free, Phthalate-free, SLS-free, Steroids-free, Sulfate-free, Triclosan-free |
Reviews from out beloved customers ♥️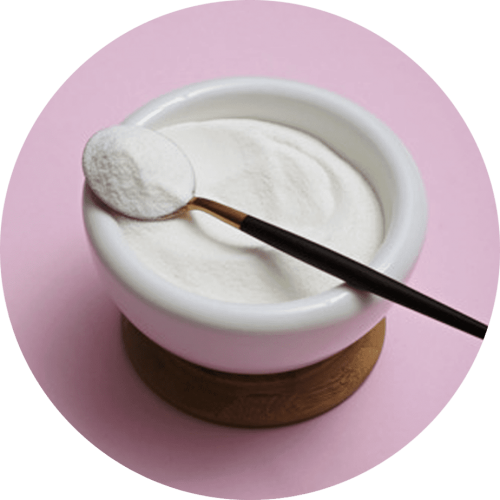 While traditional anti-aging approaches focus on dermal collagen type I, Syn®-TC synthetic peptide  follows a more holistic approach focusing on total collagen care – specifically Type I, III, IV, VII, and XVII that are essential in a smoother, softer, younger skin appearance. Collagens are responsible for the skin's strength and smoothness, but as we age, collagen production is reduced. Syn®-TC provides the solution to a youthful, beautiful smooth skin from undamaged, stable homogeneous collagens.
Increased Collagen Production: the peptide increases formation of various types of collagens, enabling a strong skin structure
Anti-Aging: more collagens mean a more youthful appearance of the skin, combating the aging process
Smoother Skin: the complex allows a softer touch to the skin, with silky smooth appearance of a youth's skin
Experimental Results:
Experimental results show that the skin appears plumper, firmer with improved elasticity within just 28 days.
Collagen production is also significantly increased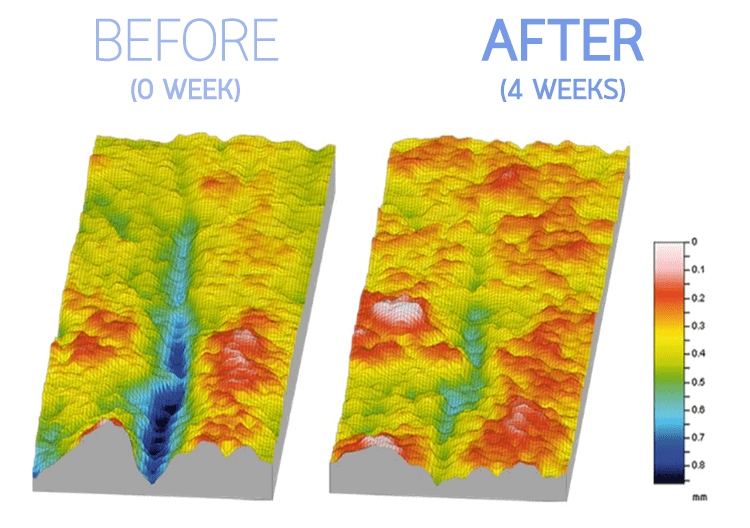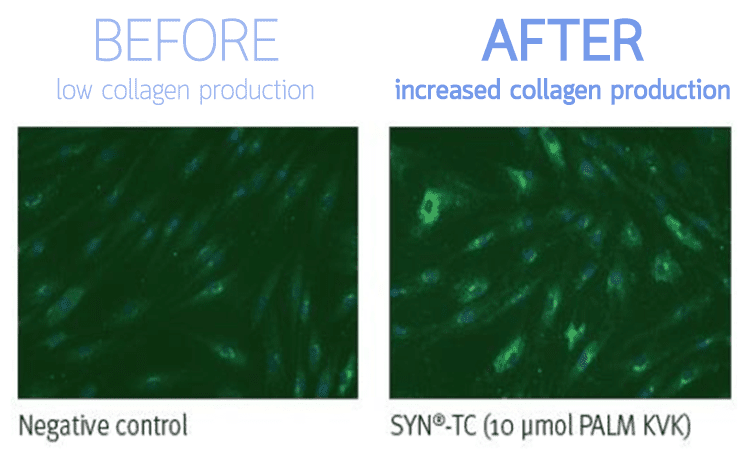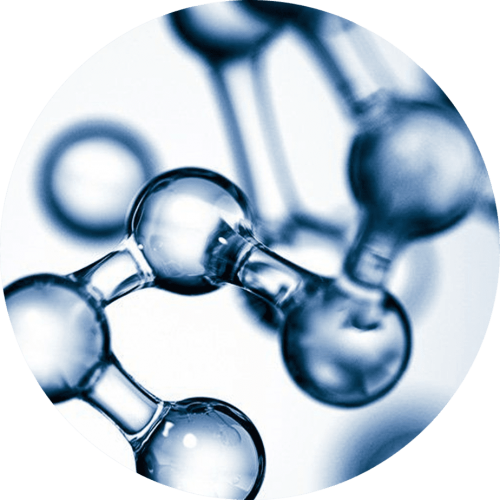 Hyaluronic Acid helps retain moisture for the skin, and is a gel-like substance naturally found in skin cells. The substance supplements the slowed-down production due to aging, and works wonders in skin hydration by holding over 1,000 times its weight of water.
Deep hydration: we use the best hyaluronic acid to efficiently retain moisture for the skin, keeping the skin layers hydrated
Refined skin: when skin stays hydrated, it appears plumped and healthy with reduced lines and wrinkles.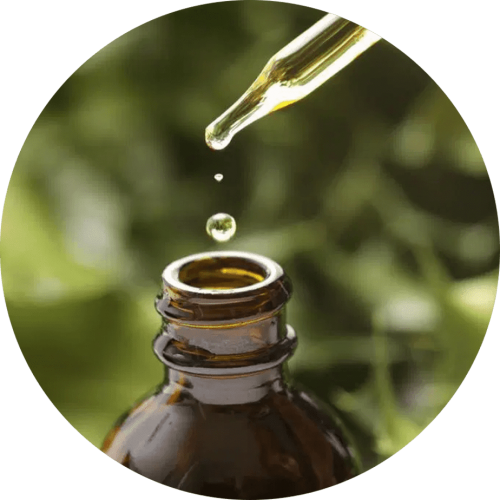 Vitamin E Acetate (Copherol 1250C)
Vitamin E Acetate is a synthetic form of vitamin E, one of the most popular Vitamin in skin care products given its various beneficial properties such as antioxidants.
Enhance Skin Repair: the compound is able to increase enzyme activity of the skin, which positively influences the repair of stressed and damaged skin, for example after UV irradiation
Improved Skin Strength: as the skin's moisturization ability is increased, the skin becomes more strong to outside effects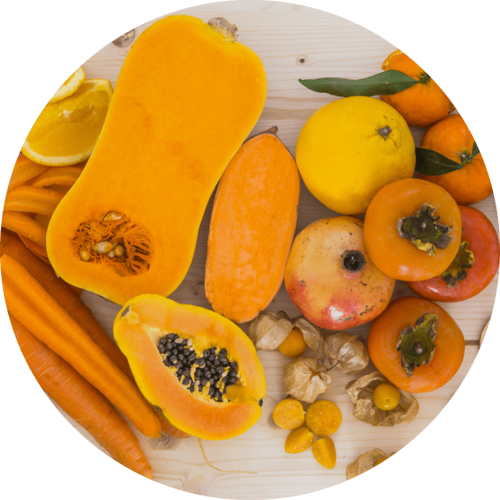 Vitamin A Palmitate (Retinol 50C)
Vitamin A is an active skin care ingredient that is acceptably the most effective substance for care of aging and UV-damaged skin. Retinol accelerates mitosis, increases enzyme activity, and normalizes keratinisation, which improves and normalizes the cell renewal process. Thus, the skin looks clearer and has a healthy color. Blemishes in the skin also become less conspicuous.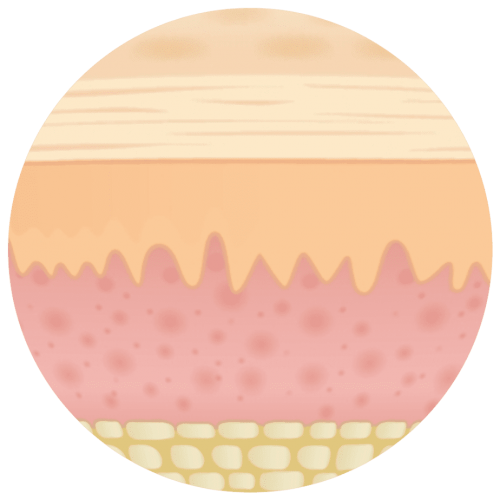 The Bimiol BSC® complex provides a skin-identical protective system that sustains natural skin barrier function by restoring lost fragments, making the skin feel healthy. It immediately and long-lastingly repairs, rehydrates, and regenerates barriers.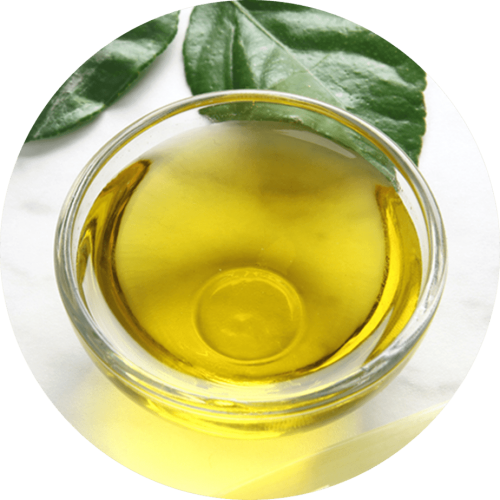 Moringa Tree Seeds Oil (Lipofructyl)
Moringa oil is extracted from Moringa Oleifera tree, known as Miracle Tree or The Tree of Life, which typically grows in semi-arid areas. All parts of the tree give plentiful health benefits, but its oil remains the most wonder in the skin care world.
Skin Protector and Restorer:

Anti-inflammatory properties and ability to protect the skin from pollution and chemicals

Moisturizer and Brightener:

moisturizes and imparts glow to the skin, making the skin look naturally bright and smooth with a balanced tone

Anti-aging:

full of antioxidants, it can reduce wrinkles and return youth to the skin as well as strengthen the skin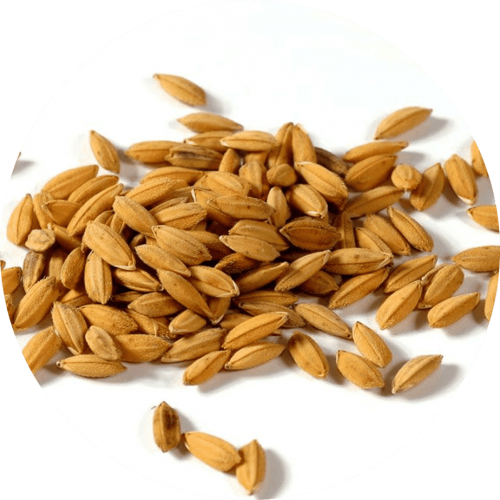 Panthenol or Provitamin B5 improves the overall appearance of skin, hair, and nails with its moisturizing and skin repairing properties.
Moisturizing effect: by stabilizing the skin's barrier function, amount of water lost is reduced and the skin is able to retain moisture
Improved Skin Elasticity: panthenol can improve skin texture and elasticity, which means it is ideal for treating dry skin
Defense Against Stress: with its soothing properties, it reduces redness, itching, and suppress inflammation, helping to relieve inflamed acne and skin
Water, 1,3 Propanediol, Cetylstearyl Alcohol, Moringa Pterygosperma Oil, Glycerin, Caprylic/Capric Triglyceride, Glyceryl Stearate Citrate, Tocopheryl Acetate, Phenoxyethanol, Sodium Polyacrylate, Panthenol, Sodium Stearoyl Glutamate, Butyrospermum Parkii Butter, C12-C16 Alcohols, Hydrogenated Lecithin, Palmitic Acid, Xanthan Gum, Benzoic Acid, Sodium Hyaluronate, Squalane, Dehydroacetic Acid, Parfum, Sodium Hydroxide, Retinyl Palmitate, Ceramide 3, Leontopodium Alpinum Extract, Helianthus Annuus Seed Oil, Magnesium Chloride, Palmitoyl Dipeptide 5 Diaminobutyroyl Hydroxythreonine, Palmitoyl Tripeptide-5, Tetradecyl Aminobutyroylvalylaminobutyric Urea Trifluoroacetate, Sodium Benzoate, Tocopherol, Potassium Sorbate
Massage gently onto the face. Apply before makeup. Close the twist cap after used for your highest comfort and quality. Avoid contact with eyes.
Recommended to use with...